Our sustainability efforts
Taking our responsibility
We are convinced that an active corporate social responsibility policy is the only possible choice for the future. Economic activity does not necessarily mean more or as much as possible, but increasingly better as well, and relevant for the consumer. We are aware this cannot be achieved from one day to the next. A gradual approach is inevitable, an approach based on a broader view of people, the planet, and the future.
"For us, economic activity does not mean producing as much as possible, it means producing better and sustainable products." Michel Moortgat

Sustainability is therefore embedded in our business strategy. It is an ongoing process of improvement for society in and outside our brewery, as well as continuous efforts for the planet.
Minimizing our environmental impact
Water
Water is the base for our beers, for almost every beer in the world. Water is not only used for the beer itself, but also during the brewing process. Unfortunately, water is not inexhaustible.

That's why we do everything in our power to challenge the boundaries of water efficiency, reducing our water consumption and recycling our wastewater using state-of-the-art water treatment technology. Our water management strategy makes a positive contribution to safeguarding water supplies in a world that faces increasing water scarcity challenges.
Energy
Besides water, we also need a lot of energy to produce our beers. Therefore, we are making ongoing efforts to reduce our energy consumption and energy-related CO2 emissions.

The three main objectives of the energy and climate strategy of our Duvel Moortgat brewery are:

- raising the share of renewables
- improving our energy efficiency
- cutting CO2 emissions

100% of the electricity that our brewery consumes, is renewable. We generate our own power by 2 solar arrays: one on the roof of the brewhouse and another on the roof of the fermentation cellars, covering a surface area of 5,300m2. Apart from generating our own electricity, we purchase clean power from the grid to match 100% of our operations.
Waste
A lot of materials can be wasted during the process of getting your beer from farmer to table. That's why we are working towards circularity. At our brewery in Puurs-Sint-Amands, we aim to prevent, reduce, reuse and recycle as much as we can.

Our primary packaging materials are 100% recyclable just like our secondary packaging, which is primarily comprised of cardboard boxes and plastic crates.

The majority of the brewery waste is comprised of organic by-products like surplus yeast from our fermentation process and spent grain from our filtration process. Both are highly nutritious output materials that we give a second life as animal feed.

Next to organic by-products we also generate other waste streams at our Duvel Moortgat brewery. 94% of our waste was diverted from disposal through recycling and biomethanisation with the production of energy and soil conditioning agents.
Trees
At Duvel Moortgat, we are well aware that all life and activity, including ours, depends on the stability of our ecosystems and the biodiversity they foster. Therefore, we are actively involved in reforestation projects in Belgium and the equatorial region and support the activities of a beekeeper on our brewery site.

We've been working with WeForest to fund the restoration of the Miombo forest since 2018. Today we can proudly say we have helped save and grow 600,000 trees in the region of Luanshya, Zambia.

We also partner up with the Flemish non-profit organization BOS+ to support local reforestation programs in Belgium. Our partnership has already resulted in 12,126 locally planted trees in a little over three years' time.

The Duvel Moortgat brewery is also home to around 140,000 bees. Depending on the amount of sun, we annually produce around 70 kilograms of our own honey. We harvest two times per year, in May and June, to make our spring and summer honey.
Fostering a diverse and healthy society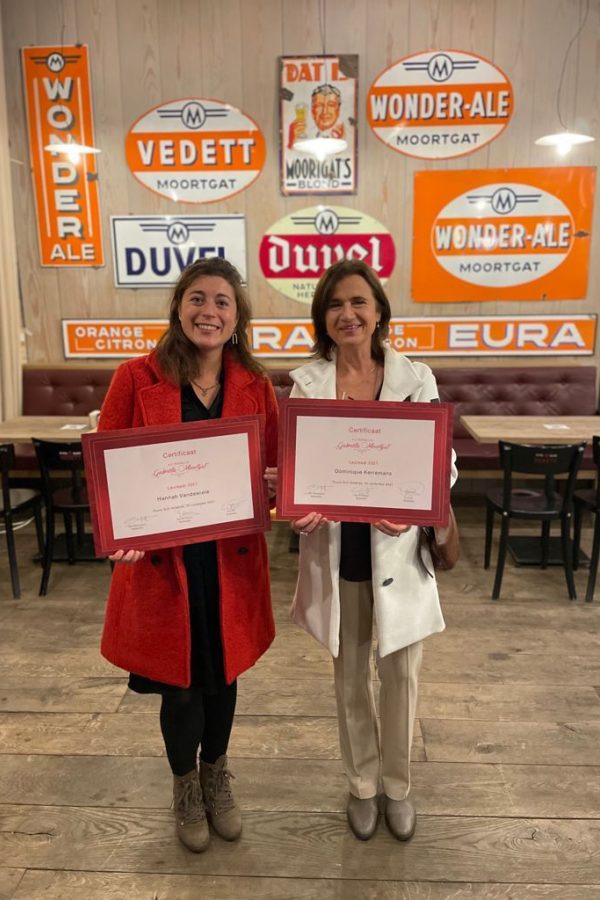 Solidarity and support
At Duvel Moortgat we reach out to society at large through different approaches. We do this by respecting our employees and going for inclusive growth. But we look also outside our organization.

Companies do not exist in isolation from the world. Some people and groups can't keep up and find themselves in difficulties which may be social, mental, or economic. We have a responsibility as a company to notice these problems and to help where we can. Therefore we empower people and support communities at large by embracing a wide variety of projects.

From improving the health of people who need it most, to helping people in their efforts to shape their own future, to engaging in the preservation of art, architectural heritage, and natural ecosystems. Since 2015 Duvel Moortgat donated over 1.3 million euros to a wide range of community projects.
Responsible enjoyment
When consumed in moderation, we believe alcohol can be part of a balanced lifestyle. As one of the largest beer companies in Belgium we want to play a role in addressing harmful consumption. We, therefore, use the power of our brands to promote responsible drinking and decrease harmful consumption.

Since 2015, we team up with Bosteels and Palm to organize the Great Breweries Marathon for sporty beer lovers. Participants sign up for a 25km or 42km walk or run in natural areas surrounding the breweries.

Additionally we organize a bike ride for the whole family under the name "Duvel on Tour" every May since 2011. Thousands of people from our local communities, including friends, family and colleagues take part in an active ride along some of the loveliest routes around the river Scheldt.